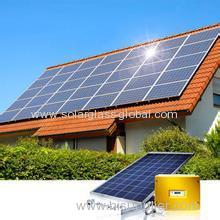 PV 5kw solar On grid roof system
4500.0~15000.0 USD
Place of Origin:
Zhejiang, China (Mainland)
Means of Transport:
Ocean
Production Capacity:
6000 sets per month
Packing:
International standard...
Delivery Date:
15 days to 30days...
Application:
Solar Thermal
Working hours (h):
8hours
The output voltage (v):
DC 24V/36/48/96
Product Description
Related Products
Related Links
PV 5kw solar On grid roof system

5KW on grid PV solar system

Module Advantage

More Yield: Solibro thin-film modules generate a significantly higher energy-yield than competitor modules of same nominal power. You profit from our strict positive-sorting policy and the CIGS lightsoaking effect, which further increases the module performance after an initial period of exposure to sunlight.

Our modules deliver top performance even at very high temperatures: With a temperature coefficient of -0.38 % / K, the Solibro CIGS modules are a long way ahead of their crystalline competitors, producing high yields even under critical climatic conditions.

Excellent usage of sunlight: Our modules allow PV installations regardless of whether the roof faces to the south, east or west. SL2 modules generate high energy yields even when installed parallel to the roof.

Aesthetic appearance: The uniformly black SL2 solar modules are ideal for architecturally demanding photovoltaic installations.

Controlled quality: Solibro's SL2 modules are certified according to IEC 61646, IEC 61730 and UL 1703.A multitude of additional quality checks ensure that each single module fulfills the same high standards guaranteeing your long-term energy yields.

Standard Test Conditions (STC) :1000 W/m2 ,25℃ cell temperature,AM 1.5 G spectrum
Power Class (W)
120
Minimum Power
120.0
Short Circuit Current (A)
1.69
Open Circuit voltage (V)
97.6
Current at PMPP (A)
1.56
Voltage at PMPP (V)
76.9
TEMPERATURE COEFFICIENTS (AT 1000W/m2 ,AM 1.5 G SPECTRUM)
Temperature Coefficient of ISC (%K)
±0.04
Temperature Coefficient PMPP (%K)
-0.38±0.04
Temperature Coefficient of VOC (%K)
-0.29±0.04
MECHANICAL SPECIFICATION
Length
1190(+3/-1)mm
Width
789.5(+3/-1)mm
Height
7.3mm(+Junction box, 15mm)
Weight
16.5KG
Frame
None
Cell type
CIGS [Cu(In, Ga) Se2]
PROPERTIES FOR SYSTEM DESIGN


Maximum System voltage (V)
1000 (IEC) / 600 (UL 1703)
Maximum Reverse Curren (A)
5
Wind / Snow Load (Pa)
2400
Safety Class
II
Fire Rating
C
Permitted module temperature on continous duty
-40℃ bis +85℃

Application:

Solar power system ground mounted with 5KW on grid PV stents system

1.schools, hospitals, public halls or private housing, communication stations, weather station.
2.household appliances, lighting, communications equipment, meteorological equipment.

Features:

Solar power system ground mounted with 5KW on grid PV stents system


1.On-grid solar system is mainly used for big solar power system users who wants to sell electricity to the government.

2.There has to be existing grid network. There is no need of battery bank for this solar system.

3.All the electricity generated from the solar panel will be supplied to the user's house or business as a priority, and the excess electricity will be fed back into the electric utility grid.

Packaging & Shipping

Our Services:

1.Reply your inquiry in 24 working hours.

2.Customized design is avaliable ,OEM is welcome .

3.Delivery the goods to our customer all over the world with speed and precision.

4.Offer customer the products with good quality and competitive price.